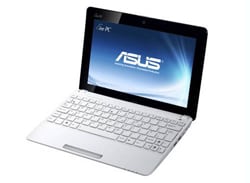 ASUS EEE PC R011PX Unboxing
Here we have ASUS EEE PC R011PX. This is newer model than ASUS X101H that we have presented earlier. Below we have the video taken unboxing the ASUS EEE PC R011PX.
The model that we have here is white color. But the same model can be with black and saten color also. The specifications of the model that we have are given in the table below:
   Operating System

Ubuntu 10.10 (Desktop Edition) Operating System

   Display

10.1″ LED Backlight WSVGA (1024×600) Screen

   CPU

Intel® Atom™ N570 Processor

   Memory

DDR3, 1 x SO-DIMM, 1GB ( Maximum 2GB )

   Storage
   Wireless Data Network                  .
   Camera
   Audio
   Interface

1 x VGA Connector
3 x USB 2.0
1 x LAN RJ-45
1 x Audio Jack (Headphone)
1 x Card Reader : SD/ SDHC/ MMC

   Battery
   Dimensions

 262 x 178 x 25.9 ~ 36.5 mm (WxDxH)

   Weight

1.250 Kgs (w/ 3cell battery)

   Color

Texture : Black, White, Saten
This model beside the Linux Ubuntu, can be installed with Windows XP and Windows 7. There are drivers for this model on the official site. We test it with XP and 7 also. It work excellent on XP. On Windows 7 work good, but it will be better if you can add +1 GB of RAM. With 2GB should work very good on Windows 7 also.
Here we have a picture gallery from this model: