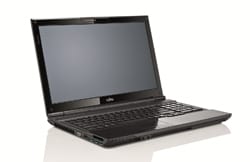 Fujitsu Lifebook AH532 Unboxing
Here we gonna present the new Fujitsu Lifebook AH532 laptop. The unboxing of this laptop is shown in the next video.
The specifications of Lifebook AH532 are given in the next table:

Specifications


Platform

"Intel® Core™ i7-3612QM (6MB cache, up to 3.10GHz) with Intel® Turbo Boost TechnologyIntel® Core™ i7-3520M (4MB cache, up to 3.60GHz) with Intel® Turbo Boost TechnologyIntel® Core™ i5-3320M (3MB cache, up to 3.30GHz) with Intel® Turbo Boost TechnologyIntel® Core™ i5-3210M (3MB cache, up to 3.10GHz) with Intel® Turbo Boost TechnologyIntel® Core™ i3-3110M (3MB cache, 2.30 GHz)

Intel® Core™ i3-2370M (3MB cache, 2.40 GHz)Intel® Core™ i3-2350M (3MB cache, 2.30 GHz)Intel® Pentium® B960 (2MB cache, 2.20GHz)Intel® Pentium® B970 (2MB cache, 2.30GHz)- Intel® HM76 Express Chipset

Operating System

Windows 7 Professional

Windows 7 Home PremiumWindows 7 Home Basic

Display

15.6″ SuperFine HD TFT LED Backlit (1366 x 768 pixels, 200nits brightness)

Modular Bay Device

"Dual Layer DVD Super Multi WriterDual Layer Blu-Ray Writable Drive

Memory

2GB DDR3 1600MHz

4GB DDR3 1600MHz8GB DDR3 1600MHzMax. Memory Supported – 2x8GB DDR3 1600MHz, Dual Channel

Hard Disk
500GB (7,200rpm)

320GB (7,200rpm)1TB (5,400rpm)

750GB (5,400rpm)500GB (5,400rpm)320GB (5,400rpm)

Bluetooth®

v4.0

Battery

Up to Xhrs (6cells Li-ion 48Wh)

Weight

Approx. 2.4kg

Hard Disk Drive

SATA-300 5400/7200rpm, S.M.A.R.T support, Two Partitions – 50/50

Graphics

Intel® HD Graphics 4000

NVIDIA® GeForce® GT 620M with Optimus™ technology- with 2GB dedicated video memory

High Definition (HD) Audio

Realtek ALC269 HD audio codec with Box Type Built-in Stereo Speakers

DTS Boost™ enhancementHD Audio-in: External Mic-in, Digital Built-in MicrophoneHD Audio-out: Headphone-out

Communication

1000/100/10Mbps Gigabit Ethernet

Intel® Centrino® Wireless-N 2230 Single Band BGN + BTSeparate ON/OFF switch for wireless network connection.
720p HD camera

User Interface

Spill-resistant Keyboard: 101-key, 18.4mm key pitch, 2.0mm key stroke

Intelligent Touch Pad with configurable vertical and horizontal scroll functions

Card Slots

ExpressCard™ 34 support,

SD/SDHC/SDXCMemory Stick®/Memory Stick PRO

Connector Interface

"USB3.0 w/ Anytime USB Charge x 1

USB3.0 x 2USB2.0 x 1RJ45 (LAN)VGA (External display)HDMI-outHDA-in, HDA-outPower Adapter DC-in

Security

BIOS Lock

Hard Disk LockAnti-theft Lock Slot

Dimensions

378mm(W) x 252mm(L) x 29.2mm-34.2mm(H)

Bundled Accessories


AC Adapter

Input AC 100~240V, Output DC 19V 80W

Input AC 100~240V, Output DC 19V 65W"

Bundled Softwares

Adobe AIR,
Adobe Reader,
Cyberlink PowerDirector™,
CyberLink PowerDVD™,
CyberLink YouCam™,
DTS® UltraPC II Plus,
FaceSense Utility,
F-Connect (TBC),
Fujitsu Anytime USB Charge Utility,
Fujitsu Battery Utility,
Fujitsu MyRecovery,
Fujitsu Power Saving Utility,
Fujitsu Support Center,
Fujitsu UpdateNaviHotkey Utility,
LCD Color Profile,
Microsoft Silverlight,
Microsoft® Office Starter: reduced-functionality Word and Excel® only, with advertising. No PowerPoint® or Outlook®,
Mobility Center Extension Utility,
Oracle Java,
Quick Start Utility,
Roxio Creator LJ,
Softex Omnipass,
Norton Internet Security 60 days trial, Windows Live Essentials(Windows Live Messenger, Windows Live Photo Gallery, Windows Live Mail, Windows Live Writer, Windows Live Mesh, Windows Live Movie Maker)
The laptop comes in a very solid box, used also for some former models of Fujitsu, but is very stylish and modern.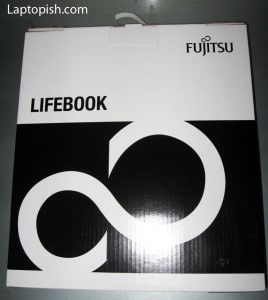 The lead is in black  metallic color.
The laptop as one piece look very modern.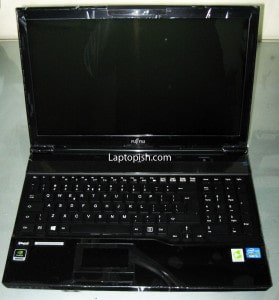 The keyboard buttons are very soft and distance between the buttons make the writing easier and without errors.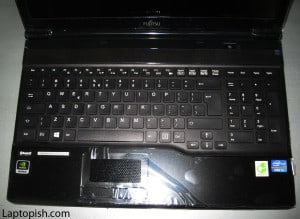 This is a look from the bottom. As we see there is big cover on the right side, who if we remove it we have easy access to the cpu fan and we can clean easily.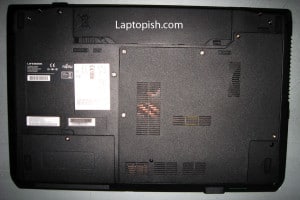 On the front there are audio ports.

On the right, there are the power jack, the optical drive and one USB 2.0 port.

On the left side we have a VGA and HDMI outputs and three USB 3.0 ports.

 In the box we have a documentation papers and 2 DVD-s with drivers and software. (one for Windows 7 and the other for Windows 8).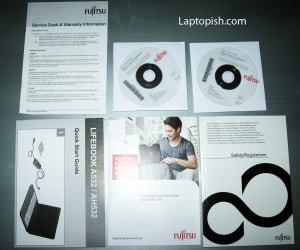 And of course, there is the power adapter.