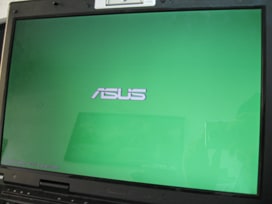 ASUS F5N green color picture
Here we have a common problem with ASUS F5N. The black color on the screen is show like green color. When the ASUS start, the background should be black with the white ASUS letters. But here we have green background with white letters.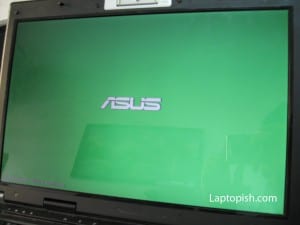 In our case the problem is solved with simple cleaning of the jack of the flat cable on the side that goes to the LCD panel. But, the same problem can be manifested if we have break wire in the flat cable or, in very rare cases the LCD panel.
Now we gonna show step by step how to do this.
First remove the power source and the battery from the laptop!
Next, remove the screw covers, and after that the screws from the screen assembly, as shown on the picture: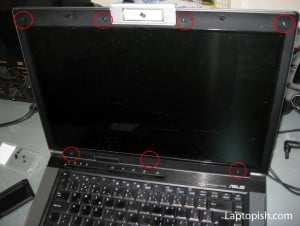 After that, remove the front bezel: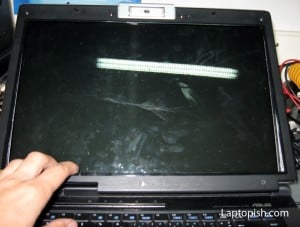 Next, remove the screws that hold the panel: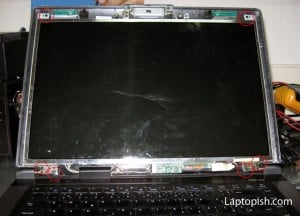 After removing this screws, the panel is released and can be placed over the keyboard with the back side up. Now can reach the connector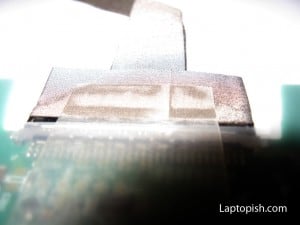 We use a contact spray and brush for cleaning the connector. After cleaned, we leave it to dry for  for 10-15 minutes.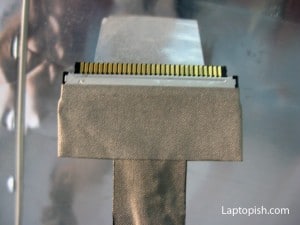 After that, we make the backward procedure of this.
Connect the flat cable to the LCD panel, mount the panel on the screen assembly, and mount the front bezel.