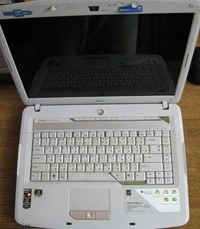 ACER Aspire 5520G chipset rework
We have ACER Aspire 5520G, with AMD Turion Processor Dual-Core and Nvidia GeForce 8600GS graphic card. As we know the both processor and graphic card have a very high working temperature even in normal working conditions. But the things get bad when the dust is collected on the coolers and come to overheating of the chipset or the graphic card. The processor have built in overheat protection, so the two main components that get overheat are the chipset or the graphic card.
In this case, we talk about the chipset. The symptoms are that the laptop is restarting all the time but don't start (as we gonna see in the video).
So, the procedure is this. We remove the cooler, clean the chipset and the processor and rework the chipset. After the chipset get cool down, we put a thin layer of silicone paste on the processor and the chipset. After that, we mount the cooler and we are ready for test run. Fortunately, the laptop is working.
This was the case when we do rework of the chipset. When the graphic card is overheated, the symptoms are different. The laptop brighten the screen but there are lines in different colors, or the picture is grey. In this case, we do rework on the graphic card. The procedure is almost the same.